Jackrabbits and Skills Development
Registration for the 2016-2017 season of the Skills Development Programs ('Jackrabbits') is now closed. We have 87 kids registered in the program which is a number we have not seen in many years! Thank you to all the dedicated coaches and coordinators who make this program possible.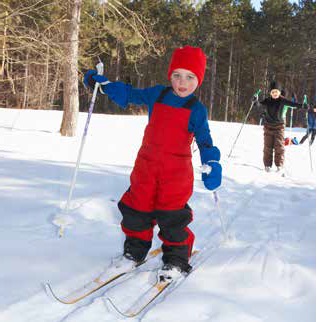 The program is from ages 3-5 with one adult participating, and ages 6-12 no parent required but may join. The skier and parent accompanying the child must be a member of PSR. Membership can be purchased prior online or in person upon registration.
The season starts on January 8th.(See schedule)
The program runs every Sunday at 1pm or 1:30pm start depending on your child's groupplacement and lessons are generally 1.5hr in length.
2016-2017 Jackrabbit Schedule
Dec 18

First Day meet and greet. Light skiing if conditions allow

Jan 8


Jan 15


Jan 22


Jan 29


Feb 5



Feb 12


Feb 19
Family day weekend NO CLASS
Feb 26
Mar 5


Mar 12


Mar 19


For more information on these programs please refer to the Cross Country Canada website: http://www.cccski.com/Programs/Athlete-Development/Skill-Development-Programs.aspx.

We are always looking for parents/adults to help during lessons.

For general questions and enquiries, you may contact Christine Dorion at psrjrcoach@gmail.com.
Remember, Cross Country Skiing is a sport for life, starting children early on will assure a healthy and strong Cross-Country community!
Mireille Fortier and Christine Dorion
Jackrabbits program team
Programme des Jackrabbits
Les enfants de 3 à 5 ans doivent être accompagnés d'un adulte. Pour les 6 à 12 ans vous êtes bienvenus à nous joindre si vous le désirez. Les enfants et les parents qui les accompagnent doivent être membre du PSR. Vous pourrez vous inscrire en ligne ou en personne les jours d'inscription.

Les sessions sont les dimanche de 13h (ou 13h30 selon le groupe d'âge) et d'une durée d'environ 1.5 heure. La saison commence le 3 janvier sauf pour une session qui aura lieu le 13 décembre. (L'horaire est attachée).

Nous avons réservé des places pour les enfants qui étaient inscrits au programme l'année dernière, mais vous devez vous inscrire durant les journées d'inscription pour réserver vos places. Afin de laisser la chance à tout le monde, SVP nous aviser si vous ne compter pas revenir. Nous avons aussi des places pour les nouveaux et nouvelles adeptes du ski!

Nous sommes toujours à la recherche de parents / adultes pour aider durant les leçons.... Tout le programme est possible grâce aux bénévoles... Joignez vous à notre équipe!

Pour toute question, contactez Christine Dorion au psrjrcoach@gmail.com

Pour plus d'info sur les programmes de ski de fond, visitez le site de Cross Country Canada http://www.cccski.com/Programs/Athlete-Development/Skill-Development-Programs.aspx