Jackrabbits and Skills Development
Registration for the 2018 season of the Skills Development Programs ('Jackrabbits') will take place on November 18th and 19th 2016, from 10AM - 1PM at Porcupine Ski Runners.

**Registration is done on-site only.**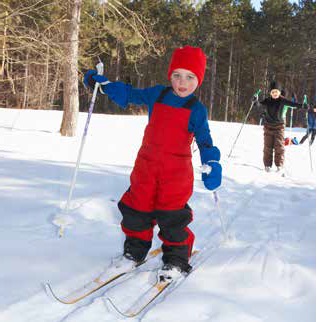 Program cost is $40 and equipment rental (if required) $50 for the Season. For fitting, please bring in your child. New spots available but limited.
For the children enrolled in the program last year, a spot will be reserved, but you must register on one of the Registration Days. Please notify us via email if your child will not be returning to program so we may add a new child to the program.The program is from ages 3-5 with one adult participating, and ages 6-12 no parent required but may join. The skier and parent accompanying the child must be a member of PSR. Membership can be purchased prior online or in person upon registration.The season starts January.
The program runs every Sunday at 1pm or 1:30pm start depending on your child's group placement and lessons are generally 1.5hr in length.

*****We are always looking for parents/adults to help during lessons.****
For general questions and enquiries, you may contact Christine Dorion at Christine@nconn.comRemember, Cross Country Skiing is a sport for life, starting children early on will assure a healthy and strong Cross-Country community!
Christine Dorion and Angie Bernier
Jackrabbits program team

Junior Development Team - children are to register during Jackrabbit registration.
---
Programme des Jackrabbits
Les coûts sont de $40 par enfant pour l'inscription et $50 pour location d'équipement pour la saison. Apportez votre enfant pour essayer l'équipement.

Les enfants de 3 à 5 ans doivent être accompagnés d'un adulte. Pour les 6 à 12 ans vous êtes bienvenus à nous joindre si vous le désirez. Les enfants et les parents qui les accompagnent doivent être membre du PSR. Vous pourrez vous inscrire en ligne ou en personne les jours d'inscription.
Les sessions sont les dimanche de 13h (ou 13h30 selon le groupe d'âge) et d'une durée d'environ 1.5 heure. La saison commence en janvier.
Nous avons réservé des places pour les enfants qui étaient inscrits au programme l'année dernière, mais vous devez vous inscrire durant les journées d'inscription pour réserver vos places. Afin de laisser la chance à tout le monde, SVP nous aviser si vous ne compter pas revenir.
Nous avons aussi des places pour les nouveaux et nouvelles adeptes du ski!